It's one of the highlights of my week to read everyone's blog on Wednesday. What I ate Wednesdays are so inspiring. I love to see all the different things people are eating. I'm thrilled to be a part of it!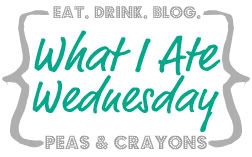 What will be eating as you read this, today?
Breakfast
I'm always on the look out for easy breakfast dishes. Overnights oats are always a winner because you can top them with anything and they are so easy. I tend to make 5 on Sunday for the work week. Adam's not a huge fan of cold oatmeal. This week we decided to try breakfast burritos. Well I did burritos and Adam opted for breakfast scramble.
Adam's Version:
Eggs (6 eggs)
Sausage (1/2 lb.)
Cheese
(it made three 1 cup servings)
Rachel's Version:
Egg (12 eggs)
Sausage (1/2 lb.)
Asparagus (1 bunch)
Cheese
(it made 2 burritos and 5 one cup servings)
Not pictured WATERMELON
I cooked the asparagus first then added the eggs and added the cooked sausage and cheese. Because I'm not eating wheat I like to use
Sami's Bakery
food items as a substitute. Their facility isn't GF but they don't use wheat in their products and Adam and I both like them. For the burritos I used the Lavish bread.
Lunch
**Cheap and easy trick**
Buy rotisserie chicken. The tip that goes with that is cut it up right away, because if you put it in the fridge and then cut it up you have to deal with gelatinous fat and it's gross. We usually use ours for quick quesadillas. Today we used it to top our salads.
Adam's Salad
Romaine Lettuce
Tomatoes
Western Dressing
Chicken
Rachel's Salad
"Fancy" lettuce, from our own garden!!!
Goat Cheese
Sliced Almonds
Blueberries
Chicken
My salad was sooo much better than Adam's :)
Dinner
We had meatloaf! woo woo. Yes I'm old and get excited about meat loaf. I found this meatloaf recipe through Real Simple. I had a hankering one day for a home cooked meal and looked up meatloaf recipes and we were not disappointed with this. We eat this a lot when it gets cold out. It's so comforting.
Here's the link to the original recipe
http://www.realsimple.com
.
Here's how we make it. As much as we love bacon, we don't use any when we make this, and we don't use jalapeños. And we use Sami's hot dog buns for the bread crumbs.
sautéing
Before and After photos. Ok so meatloaf isn't the prettiest picture but is tasty. We get 8 slices out of a loaf and we froze one of them for the future.
In addition to the meat we had a few treats out of the garden
Right now I'm watching 4 spaghetti squash grow, and I can not wait for them to be ripe. And soon....soon we will have giant tomatoes and about a thousand cherry tomatoes
How do you make meatloaf dinner perfect? Add wine. This is one of the wines my dad makes. mmm strawberry wine. It's good to the last drop, seriously that's the last drop of this bottle. And when Adam was picking up our Sami's products he picked us up some after dinner treats. hurray chocolate. Best husband ever!
That's what we're eating this Wednesday, I can't wait to see what everyone else is enjoying.
This is what happens when I'm on the computer too long. It's time to put pepper to bed.
God Bless
--R