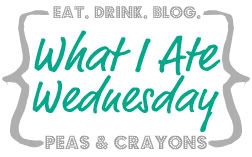 Welcome to another WIAW post.
Today's post is a little backwards, Dinner, lunch than breakfast. I love these posts, seeing what everyone else has been eating always inspires me. Something else that inspires me?...sales. I'm trying to schedule our meals around what's on sale at the grocery sale. So when I saw baby back ribs on sale, I couldn't resist.
Dinner
Of course we've never made ribs before so it was an adventure. We had some amazing BBQ sauce from Ribfest, so I knew I wanted to use that along with a dry rub. So I looked up dry rub recipes.
I found a recipe here. I mixed it up, and applied it to my ribs and let it set in the fridge until we could figure out how to cook ribs. Which ended up being a couple of days.
Adam then suggested we try the ribs in the crockpot. Sounded easy enough to me. Because I didn't want to clean the crockpot... I used a crockpot liner (best invention ever).
I did some internet research and found you can do ribs in the crockpot fairly easily. So I placed these in the pot meaty side toward the outside and covered it Cowboys bbq sauce. I set the
crockpot on low for 6 hours. At exactly 6 hours I checked them and they fell off the bone. That's a perfect rib.
When Adam got home the whole house smelled delicious. mmm barbeque. I had my ribs with my homegrown squash, and cooked up some green beans for Adam.
I don't have any pictures of the ribs on our plates because they were devoured much too quickly :) We will definitely be adding this to our recipe repertoire.
Lunch
Adam and I have been on a Caesar salad kick. So after ordering them out a couple of times I decided it was time to find a Caesar dressing we liked. I found the Kraft Caesar dressing is very good.
So I made this salad. I wanted chicken, but was too lazy to grill some up so I got a rotisserie chicken. It was freaking wonderful :)
Breakfast
Another great meal I made this week is Oatmeal banana pancakes. I found the recipe here. I woke up one morning and had to have pancakes. These just hit the spot, they were totally GF and would have been vegan had I had vegan chocolate but instead I had a Hershey bar that was chopped up in these.

I doubled the recipe and got 5 large pancakes. Adam and I both enjoyed these. It's a great way to use up old bananas, and I'm hoping it's a recipe that I can make up ahead of time and freeze so when we want pancakes we can thaw them.
What have you been eating?
God Bless
--R